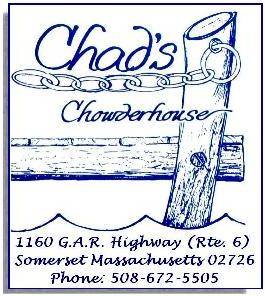 CHADíS CHOWDERHOUSE
"Make yourself at home," calls out Sharon Rosen, the proprietor for the past fifteen years of Chadís Chowderhouse. "Okay, whereís the remote?" calls back the customer, feeling very much at home indeed. Thatís the kind of place Chadís is ó not, shall we say, anonymous. Partial as I am to odd prices, I will report that three quite scrumptious clamcakes can be had for $1.10, and if you shell out two and a quarter for a cup of the "award-winning" seafood bisque, you will receive a nickel in return. Whatís not to like, except for the fact that they donít take credit cards? Seeing me blanch at this news, Sharon reassures me that she'll make an exception and let me pay by check, or I can "pay another day if youíd like." Now thereís nothing not to like. Besides, how can you resist a place that has a fish on the wall that flaps his fins while warbling, "Donít Worry, Be Happy"? óD.A.R.
1160 G.A.R. Highway (Rte. 6)
Somerset, Massachusetts
508-672-5505
Open Tuesday - Saturday 11 a.m. - 8 p.m., Friday until 9 p.m., Sunday 4 p.m. -­ 8 p.m. No reservations. No smoking. Parking lot. Wheelchair accessible.
-- from Rhode Island Monthly